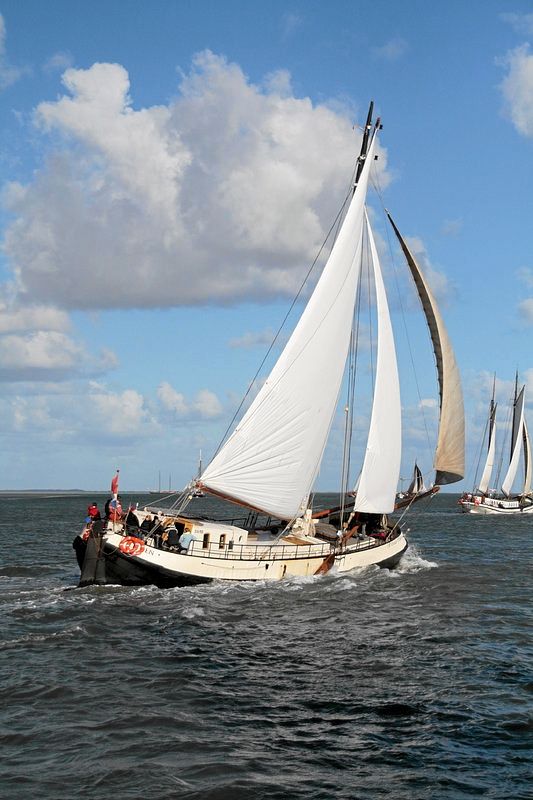 Midweek sailing on "de Vrouw Dina"
A midweek is from Monday to Friday and based on 12 people and self-care.
A midweek sailing on and around the IJsselmeer on a traditional sailing ship with modern comfort.
This is what your midweek could look like
Welcome on board.
Around 10.00 am the crew of De Vrouw Dina is ready to welcome you in the harbour. You can first install yourself quietly per bedroom. There is a complete duvet set and hand linen for everyone. Each bedroom can accommodate 2 people and has its own shower and toilet. There are also tea towels, towels and cleaning products for you in the galley, however, a household package is on request.
Afterwards, the crew will give a welcome talk in the common room. There we get to know each other and the skipper tells, in short, the long history of "De Vrouw Dina". We will also talk about the weather and the crew will have a chat and briefly tell how it works on such a traditional sailing ship and where we need the hands of you or your company. In consultation with you and depending on weather and wind, the sailing route is chosen and we choose the spacious sop. In the afternoon we arrive at the port of the next city where you can take a look around.
The next few days we choose a new destination between Amsterdam and Ameland. Everyone who wants to participate is invited but it is often not necessary, only 6 people are counted on who participate in sailing. Optional is an extra crewmember so that you are sailed. You can rest easy, you do not need any sailing experience and do not have to participate, you can also relax and enjoy the atmosphere. In addition, it is possible to lounge with the beanbags on the hatch cover. "De Vrouw Dina" gives you space.
Friday around 16.00 hours we will return to the port of departure.
The accommodation is available exclusively for your party. A midweek lasts from Monday 10.00 am to Friday 4.00 pm. A sailing experience with relaxing visits to picturesque towns.
Are you interested? Read more.
There is room for max. 12 people . On this trip we do not sail out under 8 people. All this is offered on the basis of self-care and the skipper and the size are also taken care of. The ship is all-risk insured and the crew is insured against liability.
Excluded: Final cleaning €130, service package €40, extra engine hours €100/hour, extra size €70/day.
Should you choose a different port or a slightly changed program or do you have any questions?
Mail: info@sail-holland.nl or call 0031 0646380842
You can book via a quotation request.